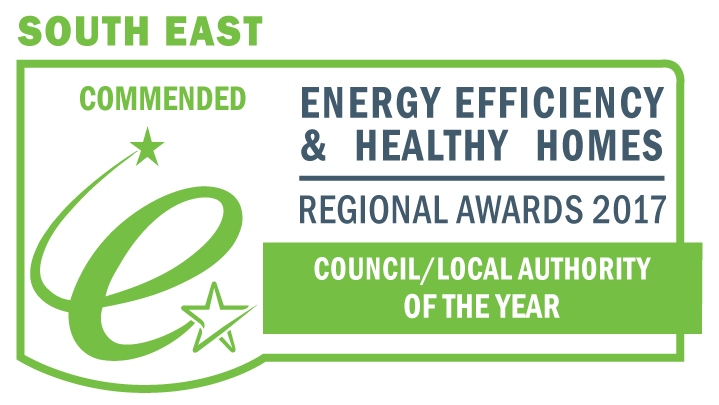 COSY East Hampshire is a council-led scheme set-up to help reduce fuel poverty. Householders can make their homes warmer and more energy efficient whilst saving money.
Support may be available for home owners including private landlords and the wider private rental sector depending on eligibility. The schemes that the council manages or is involved with are:
ECO
Whitehill & Bordon support
External partners
The COSY team at East Hampshire District Council has been recognised for its work to alleviate fuel poverty across the district. Havant Borough Council was awarded "Council of the Year" at the coveted South East Energy Efficiency & Healthy Homes Regional Awards 2017.
Whitehill & Bordon interest-free loan
Residents of Whitehill, Bordon and Lindford can kit out their homes with the latest energy-saving improvements with an interest-free loan from EHDC.
The council has government funds ready for those looking to install home energy improvements such as insulating your home or buying a new boiler.
The loan scheme is available for home improvement works in Whitehill & Bordon and Lindford that minimise energy use and reduce carbon emissions.
The loan is issued on a first come first served basis. If you are interested, please register your interest using our registration form.
Alternatively, you can contact us direct on 01730 234317.
ECO (Energy Company Obligation)
The larger energy companies have an obligation to invest in energy efficiency measures to reduce fuel poverty, energy use and reduce residents' energy bills.
ECO is available directly through the larger energy companies and their approved installers.
The council, with its Eco flex statement of intent, has the opportunity to identify additional vulnerable households who would not automatically qualify for ECO funding. The statement of intent also enables the council to create its own eligibility which can be set.
Statement of intent
The local council with its Eco Flex statement of intent has the opportunity to identify additional vulnerable households who would not automatically qualify for Eco funding.
The Eco Flex statement of intent enables the council to set its own eligibility criteria which can be found below:
You can register your interest in making your home warmer, reducing your energy bills and use, by completing the online registration form.
Priority Services Register
The Priority Services Register (PSR) is a free service provided by suppliers and network operators to customers in need. Help you might be able to get through the PSR include:
Advance notice of planned power cuts
Priority support in an emergency
Meter reading services at appropriate intervals
Accessible information. Account and bill information in an accessible format, for example in larger print or braille.
You can receive the services available if you:
are of pensionable age
are disabled or chronically sick
have a long-term medical condition
have a hearing or visual impairment or additional communication needs
are in a vulnerable situation
if you have a child under 5 years old.
Each energy supplier and network operator maintains its own register.
If you need further information, please contact your energy provider or review the information on the Ofgem website.
The Hitting the cold spots project continues to help Hampshire residents to keep warmth and well this winter.
We are delighted to announce that in addition to the usual support we have secured funding to help households install first-time central heating systems.
Other support includes:
Visits from advisors offering advice and practical support
Access to funding for boiler repairs and replacements
Provision of electric oil filled radiators for those without heating
Small grant support to help cope with winter emergencies
If you or anyone you know are struggling to stay warm in your home please call 0800 804 8601 or email staywarm@environmentcentre.com.
Please note the above services are subject to availability and conditions apply.